ACCELERATE YOUR SUCCESS BY STARTING
YOUR PRACTICE THE RIGHT WAY
EXPERT ADVICE FOR YOUR PRACTICE, CAREER, AND LIFE IN A 3-WEEK JUMPSTART BOOST COURSE
What I Wish I Knew...
What if you could be confident that you're starting your business the right way? What if you had access to expertise, business advice, and proven systems that took the guesswork out of establishing and managing a successful practice?
Now you do.
In this course, you'll learn everything I wish I knew when I was starting out.
It will help you take a leap forward in your career to maximize your business success, secure your future, and live your legacy.
Be sure to "Sign Up/In" before clicking the button below.
THIS COURSE IS FOR:
Students

New Graduates

Young Professionals

Entrepreneurs + Small Business Owners
Are you prepared to run your practice like a business?
It takes a different set of skills to run a successful practice than it does to be a dentist—and dental school doesn't teach them.
You can spend years learning how to establish and run a successful practice. Or you can learn the fundamentals of business success and proven tips to build a profitable practice now, with our three-week workshop.
What's the difference? It's enormous: potentially millions of dollars in income, as well as the opportunity to build your practice around your life, instead of your life around your practice.
Maximize your business success
Stop trading time for dollars. Take control of your work—and life. It's possible when you know how to build and run your practice like a business.
Whether you're considering starting your own practice or already have, this course will help.
Don't go it alone!
Access expert guidance and support on everything from legal tax mitigation to truly effective marketing and staffing. We can help in just three weeks with our Jumpstart Boost Course and ongoing access to our mastermind community.
Get started now with our 3-week Jumpstart Boost Course
Start your practice off right with our step-by-step guide, delivered in our accelerated 3-week Jumpstart Boost Course.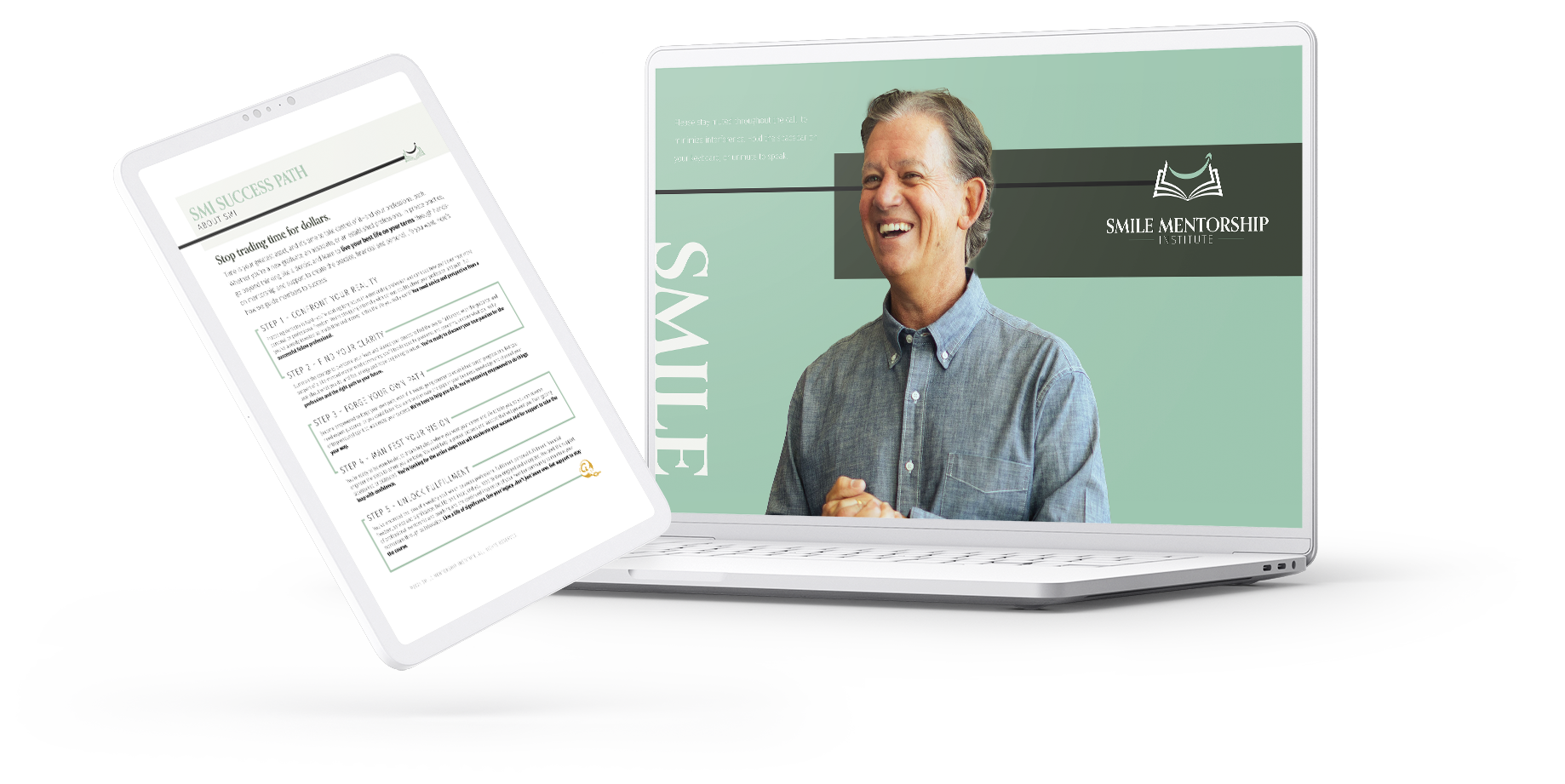 The most important thing you'll learn is how to build your practice around your life—not the other way around.
YOU'll LearN:
Start off a new venture or business correctly
Structure your business with LLC and management entities
Establish and use legal tax mitigation and liability protection strategies
Write and execute a successful business plan
Find, keep, and treat the best patients
Build the best website and marketing plan for your practice
Inspire staff with your vision—as well as hire, fire, and develop them
Influence and nurture outstanding office culture
Create passive income streams within and outside your practice
Structure and run systems that support your success
Increase practice ROI and worth

Join our 3-week Jumpstart Boost Course to accelerate your success
Be sure to "Sign Up/In" before clicking the button below.
5 things I wish I'd known early in my career…
How to build a practice that others will want to buy—from the beginning.
How to develop a core vision that inspires you and your staff, creating a successful business you love to run.
How to create a practice patients will love and incorporate high-tech and specialty services that make your practice more profitable.
How to build a structure and assemble a team to optimize your business, from day-to-day operations to legal tax mitigation.
How to continually increase practice ROI and worth.
Ready to learn more?

Our Jumpstart Boost Course has it all.

Be sure to "Sign Up/In" before clicking the button below.
The Smile Mentorship Institute helps young professionals take back their time, control, and freedom to live their best personal and professional lives. SMI offers outcome-based mentoring, consulting, and coaching as well as a supportive community of like-minded professionals.
ABOUT DR. RACHOR
As a member of several large dental masterminds, Dr. James Rachor has gathered and
shared knowledge
with top dentists, doctors, and lawyers in the nation. Now he's ready to share his family office strategies with other professionals.

Dr. Rachor has provided the highest quality dental care since 1990. He obtained his Doctor of Dental Surgery degree from the University of Michigan Dental School. He is certified to provide Invisalign® and laser dentistry as well as cosmetic and implant dentistry.

Dr. Rachor is a member of the Michigan Dental Association, American Dental Association, the Academy of General Dentistry, the Academy of Laser Dentistry and the Academy of Cosmetic Dentistry.

Dr. Rachor is happily married to his wife, Cinda. They have seven children. He volunteers with Forever Changed International and frequently travels on mission trips with his church. Dr. Rachor seeks to provide patient-centered care in a pleasant environment. He is a Christian who believes that Jesus Christ is His Lord and Savior.
There's never been a better time to start your practice off right. Enroll in our 3-week Jumpstart Boost Course.
Be sure to "Sign Up/In" before clicking the button below.
Created with